The 14 Best Lo-Fi Plugins for Vintage Aesthetics
The warm, lived-in tones of retro gear will give your mixes a nostalgic and emotional mood.
To get these satisfying textures right you'll need a dedicated lo-fi VST. But there's more lo-fi simulators out there than ever before.
That's why I'm rounding up the 10 best lo-fi plugins for creating study-and-chill worthy tracks.
Let's get started.
Music production tips, free plugins. theory guides and more—delivered weekly
Keep up with the LANDR Blog.
The original lo-fi effect came from the tape recording medium itself.
High-end tape machines could achieve impressive fidelity, but consumer units often degraded the sound in subtle, yet charming ways.
There are plenty of plugins out there to emulate the effect, but Baby Audio's TAIP is one of the most intriguing.
Based on AI technology, it's a new approach to tape emulation with a convincing sound that can go from subtle to extreme lo-fi.
Hot tip:
Baby Audio TAIP
is now available with any yearly
LANDR Studio subscription
for the lowest price ever. Get curated pro-plugins, access to LANDRs game-changing AI mastering tool, digital distribution, royalty-free samples and much more!
Goodhertz Vulf is a unique compressor plugin that's capable of some serious lo-fi goodness.
Vulf is a collaboration with Jack Stratton of the band Vulfpeck and models the famous "Vinyl Sim" algorithm from the vintage Boss SP303 sampler.
This oddball compression effect caught the attention of beatmakers like Madlib and J Dilla and inspired a generation of lo-fi beats.
Vulf offers a much more flexible take on the 303 Vinyl Sim that can go from smooth and stylish to squashed and scraggly.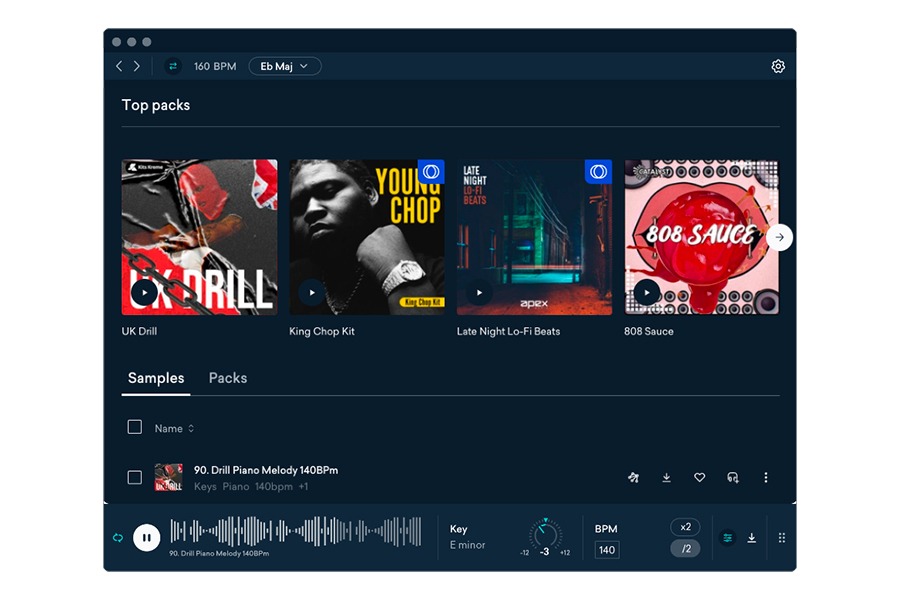 Here's a free plugin that gets you access to thousands of free lo-fi samples.
The LANDR Samples plugin is an in-DAW bridge to LANDR's extensive sample library and makes it easy to browse, download and use samples in your own track.
There's even a selection of free lo-fi sample packs that are the perfect starting point for your next lo-fi track.
Best of all, the LANDR Samples plugin comes with controls for time stretching and pitch shifting any sample to your track's key and BPM.
That means you don't have to worry about tempo or key when you find a sample you like.
XLN Audio's RC-20 Retro Color is everywhere these days, and it's easy to see why.
This top lo-fi plugin is a six module suite of sonic degradation tools that can take any sound back in time.
Add noise, pitch modulation, overdrive, bit reduction, ambience, and tape artifacts all in the same plugin and control the intensity globally with the magnitude slider.
Izotope Vinyl was one of the first lo-fi plugins around—and it's completely free.
Vinyl recreates all the charm of an old school LP. That means mechanical and electrical noise, dust, scratches and all kinds of wear and tear.
It even has a decade switch that can transport your tracks back to the sound of the earliest commercial recording mediums.
The best part is that you can use Vinyl in your sessions without paying a cent.
Waves Reel ADT wasn't built specifically for lo-fi, but it's a great tool for old school tape textures with that sweet compression and warble.
ADT stands for "automatic double tracking." It's a technique developed in the 60s to reproduce the sound of an artist singing over their own performance to thicken the sound.
The legend goes that the Abbey Road engineers had to come up with it because John Lennon didn't like the tedious process of overdubbing vocals.
Reel ADT nails the Abbey Road ADT sound, but it's also a lo-fi secret weapon. ADT is essentially a tape chorus effect.
Its subtle modulation can create impressive wow and flutter and its tape grit is pleasing and warm.
Here's a great plugin from our very own plugin suite—LANDR FX.
If your lo-fi music features acoustic elements, like guitar, voice or keys—LANDR FX Acoustic is definitely a good option for putting additional lo-fi shimmer on your instruments.
It comes with a ton of presets, including a dedicated lo-fi preset that will add a layer of warmth and warble to any track.
Plus the incredibly simple and easy-to-use one-knob interface means you can dial in your sound quickly with professional sounding presets.
Give the entire LANDR FX suite a try for free and see how LANDR FX Acoustic is perfect for adding that extra lo-fi sounding shimmer to your tunes.
Klevgr DAW Cassette is a simple plugin for bringing the magic of cassette tapes back to your DAW.
If you're feeling nostalgic for that rounded frequency response and characterful noise that only cassettes can offer, this plugin is for you.
DAW Cassette is super simple to use with straightforward controls for the quality of the head, tape and motor of the virtual tape deck.
You can also choose the tape stock type to hear the difference between chrome, metal and plastic tapes.
D16 Decimort 2 is a highly advanced bit crusher. It specializes in degrading sounds by reducing their digital information in ways that make a sound pop.
A lot of the character of early hip-hop and electronic music came from the retro samplers artists used to make their tracks.
A lot of the character of early hip-hop and electronic music came from the retro samplers artists used to make their tracks.
These old school tools had limited storage and resolution but imparted their own special sound.
Decimort 2 lets you reach back and access those same digital artifacts in a controlled fashion.
With controls for quantization depth, dithering and resampling frequency you can emulate just about any vintage AD/DA ever with Decimort 2.
Sometimes lo-fi doesn't have to be complicated.
Baby Audio Super VHS keeps it simple with direct access to the parameters that matter most for that retro classic coloration.
The three macro controls give you warble, ambience and distortion on a dial and the smaller sliders around the edge let you tweak the finer points.
Like some of the other plugins on this list, Super VHS is designed to emulate a specific medium. In this case it's the good old fashioned sound of VCR tapes.
The audio track on a VHS definitely had a lo-fi flavor that's great to rediscover in 2020…right?
AudioThing Vinyl Strip is another multi-module lo-fi solution in a single plugin.
Each stage lets you add another layer of processing to your lo-fi texture.
Aggressive compression, harmonic saturation, vinyl effects and downsampling let you get specific with your sonic destruction.
Each of these effects has a unique character and can be toggled in and out of the signal chain.
u-he Satin is another plugin that comes at old school analog textures via tape.
After all, the most desirable lo-fi qualities come from some form of magnetic tape recording or reproduction.
Satin lets you dive right into the tape characteristics themselves to simulate all kinds of magnetic tape behaviour.
Mess with the bias, wow and flutter, cross-talk, asperity and even arcane parameters like the azimuth and gap width of the repro head—wild!
Accurately creating the sound of vinyl slowing down, or speeding up on a table turnable is so much easier and precise with Timeshaper from Cableguys.
The plugin offers a ton of control over slowdowns and speed ups, you can even re-create the warbling effect of a broken turntable.
Timeshaper also offers a lot of options for manipulating time, looping and intuitively re-arranging loops.
Hot tip:
Cableguys Timeshaper 2
now comes bundled with yearly
LANDR Studio subscriptions
alongside dozens of additional instruments and effects from respected manufacturers, LANDRs industry-leading AI mastering engine, online distribution, royalty-free sample marketplace and much more!
Goodhertz Wow Control is a plugin that takes wow and flutter seriously.
As you've seen in many of the other plugins on this list, pitch modulation is a key component of the lo-fi sound.
It originally came from the subtle speeding up and slowing down of analog tape moving through a tape machine.
These fluctuations in the speed of the tape translate into pitch changes in the audio.
But the specific character of tape wow and flutter is tough to emulate. A tape machine is built like a Swiss watch with tons of moving parts.
The way they all interact to create that unpredictable modulation is what makes wow and flutter so magical.
Goodhertz Wow Control is a highly advanced take on the phenomenon of wow and flutter that lets you dial in every detail.
If you've been searching for the perfect pitch warping, Wow Control could be the sound you're looking for.
Low fidelity
Lo-fi is here to stay.
This woozy, nostalgic production flavor is super satisfying in lots of genres.
Getting the right lo-fi texture in your DAW has never been easier.
Try any of these lo-fi plugins for a retro classic vibe in your next track.
Michael Hahn is an engineer and producer at Autoland and member of the swirling indie rock trio Slight.
Gear guides, tips, tutorials, inspiration and more—delivered weekly.
Keep up with the LANDR Blog.