How to Get on a Playlist: The 9 Step Guide to Doing It Yourself
Editor's Note: This article was originally published Jul. 11th, 2017, but has since been updated to bring you up-to-date information on the playlisting landscape.
There's tons of articles out there with 'hacks' on how to get on a playlist.
Some artists get handpicked by Spotify, Apple Music or Deezer playlist curators. They get tons of plays overnight. And sure, they get a spike in revenue from being heavily streamed…
But I'd be lying if I told you there is a guaranteed, quick and easy way to achieve that. In fact, you should be very wary of pay-for-play schemes that generate fake streams on your streaming platform profile—engaging with is dangerous and could result in your music being taken down.
Once you release your music, you have to promote it. Otherwise it'll collect digital dust and no one will listen—let alone playlist it. All good music promotion starts organically, from great music and a real feeling.
The way we discover and listen to music has changed. Algorithms are heavily involved. They're serving us personalized playlists. They're breaking artists who have data to back up their success.
But the most important thing to remember is that the human element hasn't totally disappeared—even from the most data-driven streaming platforms.
Tastemakers and playlist curators still make some of the best playlists. And your fans are still… real humans!
All good promotion starts organically, from great music and a real feeling.
So here's everything you need to know about getting on playlists, how to approach playlisters and how to craft your promotional strategy after releasing. This won't get you on Spotify's Fresh Finds tomorrow… but it'll put all the chances on your side to get your music heard.
Here's the gist of the lists!
1. Get Your Music on Streaming Platforms
Joe Holtaway is a singer-songwriter from England who's also a part of the LANDR community. Last May, he told us that his song "A Little Love" got featured on the BBC 6 Introducing Mixtape.
"I feel songs want to be shared. I feel it when they start to come through—the first thread of melody woven with some words. It's as though they already know the day when you'll say the words: this is a new one I've been working on." says Joe.
The first step to getting your music featured anywhere is… to release it! It might seem obvious, but many artists don't know where to start. You might have your music up on Bandcamp or SoundCloud. And you're wondering "How do I get my music on Spotify and Apple Music?"
It's a great time for DIY music creation. You don't need to be signed to get your music distributed anymore. Independent artists can do it too.
LANDR lets you do just that: release your music easily, right from your track library.
Log into your LANDR account
Click on 'Releases' in the top menu
Upload a lossless file
Enter the info for your release (titles, album art, etc.)
Now you're good to go! You just need approval and some time for your tracks to hit the stores (typically 4-5 days) . Once they're in the stores, you're ready to start promoting towards those playlists.
It might seem like distributing is a long ways off from your first placement, but if your music isn't available to get listed, there's nothing to list!
But the work doesn't end here. Now it's time to promote your streams!
2. Get Verified
So you've released your music, good. The next step is to take control of your artist accounts and show that you're legit (even though we know you are).
Spotify
Once upon a time you needed to get 250 followers to earn the little blue verification check mark on your profile. Luckily, Spotify has opened verification to all artists.
Go to Spotify for Artists and click 'Get Access.'
It takes a little while (a few days, or a week) but once they verify who you are, you get access to your artist profile. It lets you edit your photos, check your stats and more.
Apple Music
Go to iTunes Connect to link your iTunes account and claim your artist profile.
Click on the plus and add 'Artists'. Search your name (your music has to be on there already. If not go back to step 1!).
It takes up to a week or so to get the verified status.
Hot Tip: LANDR Promolinks lets you create one simple webpage for your streaming links. Use it to give your music to your fans no matter how they choose to listen.
3. Build An Audience
Your music is up on all the right platforms with blue check marks—now what? It's important to build a network of supporters both online and in person. Here's how:
In Real Life
Get involved with people face to face. It's still key. No matter how many algorithms govern our lives, fans and journalists are human beings first. Establish a genuine relationship to give yourself a better shot at a sustainable and successful journey for your music.
"Sharing to friends, music writers and radio has the same feeling for me—it's about having a relationship with the songs and knowing when the time, person and place feels right" says Joe Holtaway.
Your first supporters are the ones who get you off the ground: your friends, family and internet pals (like that one Twitter friend who likes all your posts).
Remeber: to get fans, you gotta be a fan! Exchanging music and compliments with other fellow musicians you admire is a fantastic way to build your network.
At the grassroots level, it's often other musicians who organize shows and help co-promote each other with things like their own playlists. Cross-promote with everyone in your network and build a community and following organically.
"I keep a journal—drawings, paintings, quotes, and in there I put addresses of those I meet at gatherings and shows. Often sharing recordings starts from there with a note the next day, a shared song link"
— Joe Holtaway
"I keep a journal—drawings, paintings, quotes, and in there I put addresses of those I meet at gatherings and shows. Often sharing recordings starts from there with a note the next day, a shared song link" advises Joe.
Online
Getting and using the right social media profiles is important whether you like social media or not. Get a few that you can manage and keep them updated: Facebook, Instagram, Twitter, SoundCloud or Bandcamp.
Make an a good artist website and artist bio.
Get your friends to follow your Facebook fan page by clicking "Invite Friends."
Link all your profiles together. Put all your social media links on Facebook, SoundCloud and on your website.
These are the spaces that keep your momentum up if you maintain them. Share your story and your process, it all counts. But don't be spammy.
The best rule-of-thumb is to treat your fans like your close friends—if you'd be excited to share it with your friends, then share it with your fans. You wouldn't spam your friends 5 times a day with a "check out my Soundcloud" post. So don't do it to your fans either.
4. Submit Your Unreleased Music to Spotify Playlists Directly
Spotify's new beta feature gives you access to direct playlist submission to curators and Spotify's editorial team.
If you have an unreleased track you'd like the Spotify team to consider for playlists, head over to your Spotify for Artists account to get started (If you don't have a Spotify for Artists account yet, here's how to get verified on Spotify).
From there, you can select one unreleased track to submit. You'll have the opportunity to include information about your track, so make sure to be as detailed as you can.
Stuff like the genre, subgenre and mood of the song is good to note. Spotify also suggests to include "the instruments on it, whether it's a cover, and the cultures you or the song belong to."
The playlist curation is a mix of data-driven algorithms and careful human selection, so the information you provide is important for playlist consideration (take the time to make it count!).
Plus, Spotify states that no one can pay to get their track on a playlist—which is quite a relief!
5. Make Your Own Playlists
Get your feet wet with playlisting by making your own! Chances are, streaming platforms, playlisters and fans will appreciate it and they help to build your story as an artist.
Make it thematic (e.g. your influences) or genre-specific (something you know well). Think about how you can naturally fit in 1-2 of your own songs. But don't make it only about you!
The best rule-of-thumb is to treat your fans like your close friends—if you'd be excited to share it with your friends, then share it with your fans. You wouldn't spam your friends 5 times a day with a "check out my Soundcloud" post. So don't do it to your fans either.
Show your taste and how your track fits with other awesome music. Add 30-100 songs by other artists that work well with yours.
If you don't know how to do it, check out these helpful guides:
And of course, don't forget to share your playlist on social media and get your fans to follow it! Reach out to the artists you've included and mention that you like their stuff. This will encourage some nice cross-promo and the opportunity to reach new audiences with your music.
6. Know the Right Playlists
Knowing the playlist landscape is essential for promoting your music in the right places. Spotify recently reported that there's over 2 Billion (!) playlists on Spotify.
That's a lot of lists… So to widdle it down a bit here's what you need to know about where to look for listing opportunities.
The Big Ones
Of course, you'd like your new single to end up on Spotify's Rap Caviar (7 million followers), Fresh Electronic (1.5 million followers) or The Apple Music List.
And I'm sure we'd all get a boost from being on major label playlist like Sony's Filtr, Warner's Digster and Universal's Topsify.
But let's be real: official Playlists are not easy to get on. The Playlist Editors who make them have their own way of selecting songs—digging on blogs, having industry relationships, keeping an eye on new releases and looking at the data for what gets traction on their platform.
You can always do some research online to find who the Playlist Editors are (LinkedIn or a quick Google search). But keep in mind that they receive hundreds of requests daily.
So what's the solution? Start small by reaching out and submitting your tracks to independent blogs and playlist curators you follow and trust. Their playlists are often the launchpad to bigger playlists.
It'll take some research and digging, so take the time to do it right. You'll probably find some amazing music along the way anyways, so it's worth the time no matter what.
Independent Curators
Music fans like you and me make playlists. Some of them have quite a bit of following. Brand and blogs also make playlists that have thousands of followers.
Do your research and find playlists that fit the genre of your song. Search the major streaming platforms directly or use sites like Playlists.net.
Actually listen to their playlists and suggest where your music would fit best before you reach out. Keep it personal. Don't shoot out the same email to a hundred playlists.
Here's a list of independent playlisters to contact:
7. Reach out For Press Coverage
Even in the age of data-driven success stories, it still matters to have press and music journalists on your side. It's the human seal of approval that gets you noticed by new fans and maybe even those official playlist editors.
When your release is ready and you're about to distribute it, do some housekeeping:
Update your social media profiles (e.g. Add a line like: New album 'Let's Go' dropping next month!)
Get a fresh set of press photos taken and put them in a folder that you can send out with a link (on Dropbox or Google Drive among others)
Think of approaching blogs with an exclusive release
Make an exclusive music video, sample pack, tutorial or mix to go along with your project
Remember what I wrote about journalists being humans? Build relationships with music writers before you want something from them. You have something in common: A love of music. Start a conversation first, suggest your music second.
Blogs To Reach Out To
If it's your first release, start with smaller local blogs. Trust me, THEY COUNT! A placement on ANY blog is an important asset for your press kit and music bio. There's no such thing as small peanuts when you're just starting out.
Hot Tip: Certain blogs are indexed by Hype Machine, a curated music aggregator that puts music shared on blogs into one handy feed. Reaching out to independent and smaller tastemaker blogs that are indexed on Hype Machine can have 2 positive outcomes:
First, if your music is featured on the blog that's some nice promotion right there. Second, your music will then go into the Hype Machine feed where other blogs and playlisters can pick it up as well.
Here's a list of all the blogs indexed by Hype Machine. Search by genre, region, or name to find blogs to reach out to.
Once you're ready to make the leap into the bigger pool, here are some of the bigger blogs: Gorilla vs. Bear Pigeons and Planes, Consequence of Sound, Stereogum, Indie Shuffle, Resident Advisor, Dummy, Discobelle, Tiny Mix Tapes, Pitchfork, Inverted Audio, etc.
Approach them well in advance, and with a set release date you can follow through on. Get in touch with radio stations too. Everything counts. From the smallest mention, to a full on exclusive feature.
Hire a good publicist… eventually
Hiring a publicist is not typically something you do right when you're starting out. Many artists do all their promotion themselves up to a certain point, or even forever!
But if you're sure you're ready to put some money into a campaign for your release, it's worth looking into hiring a publicist.
A publicist's job is to help artists get press coverage and manage it. They'll help you plan your promotional campaigns and deal with journalists. Publicists already have relationships with the media and they know the industry well.
If you think you're ready to get a publicist, do your research and talk to artists they represent. Make sure they are legit—and not just there to make a buck without doing the legwork.
8. Approach Playlist Curators
The key with approaching playlist editors is getting your track in the right ears at the right time.
"When a song is in the hands of someone who loves it, it will be shared on. Some recent radio plays with BBC 6 Music came this way. A friend suggested I could send some songs to their Introducing Mixtape program. I had a look and it felt good, encouraging and supportive" says Joe Holtaway.
Here's a few things to consider when you're doing your own reaching out.
When a song is in the hands of someone who loves it, it will be shared on.
— Joe Holtaway
Get Creative When Approaching Playlist Editors
A simple cold email might not work—so get creative.
Introduce yourself in person if you can. Festivals often include panels and workshops in addition to performances. Don't skip them. Get involved in the Q and As and try to continue the conversation after.
If you're gigging near someone, send them a guest list spot and invite them to the show personally.
If an in-person meeting isn't in the cards, online reach out can work as well, but remember:
Aim to start a meaningful and legitimate interaction. A good conversation (about something other than your music on their playlist) goes a long way.
Get In Touch With User Generated Playlist Curators
A playlist is usually associated to the name of the curator, look them up. If you find them, don't lead with "can you put my track in your playlist."
Work up to it. Say why you are approaching them specifically. Start a real relationship based on your mutual love of music!
Other artists make playlists too. This is what's worked for me: make a playlist and tag the artist on Facebook when you share it. Most times they won't notice. But artist's have messaged me to send thanks for playing their song.
A network isn't just huge pool of email addresses you mass-message every time you release something. It's a series of meaningful creators united under the love of music and the craft of creating.
Each time it started a musical friendship. We've been exchanging music ever since!
A network isn't just huge pool of email addresses you mass-message every time you release something. It's a series of meaningful creators united under the love of music and the craft of creating.
9. Don't Rely On One Single Platform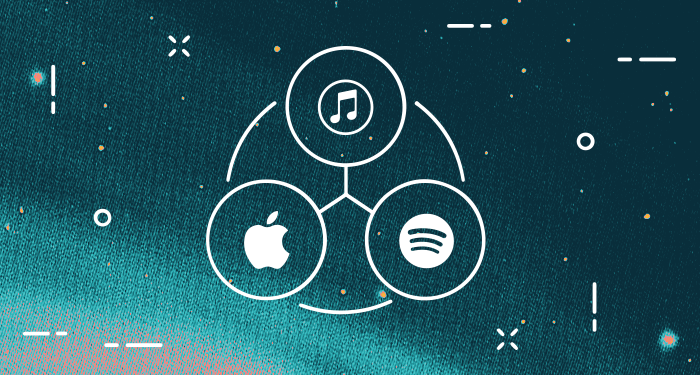 Don't get too focused on one single platform or playlist. Try to hit as many listeners as possible—you'll have all the more chances to get heard.
Hot Tip: Build a landing page that gives people the option to stream or buy your track on their favourite platform like LANDR Promolinks. It makes your promotion efforts what more efficient and streamlined no matter who's listening.
Put a free preview of your track on SoundCloud and add a 'Buy or Stream Link.'
Give it to your DJ friends to play in their sets and radio shows. Send it out to online radio stations. Like I said before, every little thing counts.
Keep it Real
It's great to try and promote yourself online and hit all the playlists big and small.
By putting all the chances on your side—distributing music, getting verified, making your own playlists, reaching out to tastemakers and playlisters—you'll put yourself one step closer for getting listed.
Remember that there's no perfect recipe. The music has to be good, and luck has to enter the equation. But making face-to-face and real connections by playing shows and participating in the community can push luck further in your favour.
It's hard work and it doesn't happen overnight, but it all pays off eventually.
Yes, some artists blow up on streaming platforms because they get on a high traffic playlist. But sometimes those artists have trouble filling up a bar if they play a show—because people don't actually know who they are. Only one of their songs got a lot of plays in the flow of a playlist.
Streams are nothing if you don't have real fans who will support your shows, buy merch and get stoked on your next release. So make sure you cover all your bases in an organic way: both online and offline.
"I feel as songwriters we have a responsibility also to encourage others—there's no need for competition, let's be open hearted." — Joe Holtaway
Leticia is a lover of acid basslines and hypnotic techno. She DJs and produces under the name softcoresoft. Writer at LANDR.
Gear guides, tips, tutorials, inspiration and more—delivered weekly.
Keep up with the LANDR Blog.