Francesca Lombardo on Working DAWless and Her New Sample Pack
Until the inception of the DAW, music-making was always a very hands-on experience.
As Francesca Lombardo recounts, even the early days of techno and house in London's late 90s dance scene were almost completely computerless.
It's something that's stayed with her over her decades-long experience as a deep house and techno producer.
Today still, she tries to do as much as possible away from the computer screen, leaving only recording duties to Logic and Ableton.
Last week we sat down with Francesca to talk gear, recording, creativity in the studio and the inspiration behind her new sample pack, out on LANDR Samples this week.
A natural on the dance floor and the DJ decks
Lombardo's start into the world of dance and electronic music was on the dance floors of London's vibrant 90s rave scene.
When she got her hands on a friend's DJ decks something changed. She wanted learn more and began to hang out with producers in her scene.
It wasn't long before she was making music of her own.
Drawing on her classical training in music as a child, she already had the music theory knowledge to write tracks.
When she started working with synths, drum machines, sequencers and MIDI, something magical happened.
"The first time I put my hands on the decks I was actually really good. So I was like why not and it just kicked off."
"Even in Italy, when I had a music teacher, he had a studio himself, and I always said I love this! You make this music without having to record, and you can make it with all these drum machines and synthesizers."
What's so special about analog gear?
The feeling of working with physical hardware is important to Francesca. For her, working off of a computer screen is too limiting.
Years of working with many of the original synths that would eventually define deep house and techno are how she also came to find her personal sound today.
"It's like playing an instrument, and synths can do really amazing things if you know how to use them.
I don't like to write with a mouse and keyboard. I'd rather use my hands and touch the knobs, filters, and for me I think it sounds better."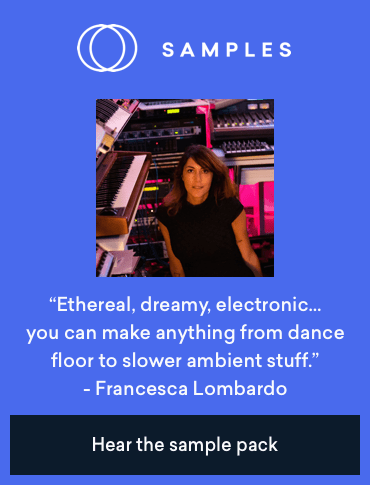 Of course, there's still a DAW present within her workflow. It's a no brainer given how easy it is to record audio in with Ableton and Logic.
But aside from recording, Francesca's sound and studio setup are mostly DAWless. 
She even uses a hardware sequencer for most of her sequencing needs, rarely relying on Ableton's sequencer.
"I was brought up using analog stuff, I think I can't detach from that. Some people think you can make music with digital and I'm sure you can. It's just easier for me when I can put my hands on stuff and record that way."
Where should young techno and house producers start?
Francesca's early forays into music production found her hanging out with many of the electronic artists behind London's early 2000s rave and dance scene.
She learned a lot during this time, even going to technical school to learn about music technology.
It wasn't long before she picked up the tools she needed to write her own tracks.
Important pieces of gear like the SH 101 synth bass were inexpensive–you could get it and a TR-808 for a few hundred euros. 
Today you can't get hardware for so cheap. Instead most young producers gravitate towards the cheaper and sometimes free synth VST realm for their first tracks.
But to the producer who's looking to start using analog hardware, Francesca has a few suggestions.
First start with a good synth bass, she suggests. It's the first step for laying down the foundation of a dance track.
"If you're doing techno I would definitely recommend a good bass synth. There's so many out there, the Moog Voyager is one of the best basses you can find and the SH 101 is pretty sexy as well. But it depends on the budget, everything is so much more expensive than it used to be."
Once you know your way around your bass synth, get a drum machine and then finally invest in a good polyphonic synth that can write melodies and pads–something like the Prophet 6.
While it might be hard to find an affordable SH 101 or a TR-909 on the used market, Francesca agrees Roland's boutique reissues of these synths are a good option to replicate their vintage predecessors.
"The 909, the SH 101 and if you want something on top for some melodies I'm gonna go with the Prophet 6–even though it's quite expensive. But the order you should get them is a synth that does a good bass, than get a drum machine and then get a Prophet 6."
"The Roland boutiques are a good option. People say it is really good, it's definitely good for live I think."
What goes into making a sample pack?
Of course, if the cost of picking up hundreds of dollars worth of synths and gear doesn't make sense right now, you can always find samples of the gear you love.
Francesca's sample pack is designed to make it easy and fun to put together a dance track of your own.
It's chalk full of samples that we're handmade with a selection of Francesca's favorite synths.
"There's the Prophet 6 that I love. The Minimoog Voyager, the SH 101 I love them too. I used the Tempest as my drum machine and the Drumbrute as well because it has a nice kick."
The pack is a kind of palette of colors that gives you the option to create a number of different basic tracks with samples that layer together very easily.
"I started to really play with the synths and harmonizers. It was like a painting at the end, because the loops I made are all connected. I started to play with them and started to make tracks with them and they were working really well. It was like 'damn it!' I want to use this for myself!"
Working with vocals and vocal samples
One of the defining characteristics of Francesca's tracks is the use of her own vocals.
Most producers just use some else's samples when writing techno and house.
For Francesca, using her own voice in her own tracks adds a personal element to her work.
Vocal inspiration comes in different forms for her, it's all about capturing them at the right moment–whether a vocal idea is the impetus for a track, or if they're added after most of the track has been written.
She's gotten to know her own voice over the years, learning how to get specific tones and timbral qualities out of her recordings.
"I see voice as something separate from the instruments always.
It's very personal."
"In the tracks I usually use the same setup, I have a couple of templates of presets that I use. My voice is really dreamy so I always use reverb and delay and the right EQ. I use some specific preamps and mics, ones a bit more breathy, one has a bit more bass in it."
Writing vocal parts in the context of a sample pack was a fun creative challenge for Francesca.
Rather than thinking about how a particular vocal worked inside of one track, it was more about finding interesting effects and creating something that works inside of a wider creative palette.
For the vocals in the pack she made use of delay, reverb and the Eventide Harmonizer to create dreamy and ethereal vocal soundscapes that work perfectly to complement a dance track.
Getting out of creative ruts and finding a workflow
Staying creative while writing any kind of music is challenging–even seasoned veterans like Francesca fall into creative ruts.
For her it's all about finding a balance between routine and creativity. 
"It depends what kind of track it is… Sometimes I have an idea and start with melody. Sometimes I start from voice… If it's like a dancefloor track I start with kick and bass."
Dance tracks often follow a formula and while that makes it easier to write from a starting point, there's always the danger of getting stuck in the same patterns.
Her trick is to stop when she feels like she's getting into a rut and do something else, whether that's changing up whatever she's doing in the studio or getting away entirely.
"I follow a few loose routines, but i don't follow anything too close or it gets boring."
"Everyone gets stuck. If you know you're stuck you need to get away. Sometimes you have to do something else, even if it's not music like cooking. I mostly get stuck when the track is more than halfway through, when you're nearly finished that's when you get stuck."