10 Free Online Music Tools That Will Kickstart Your Creativity
Music production is more accessible than ever. So access it!
All you need is a laptop, an internet connection and your creativity to make fire tracks. How you say?
Well, lots of web-savvy developers are making online music tools that improve all parts of your music production workflow—from composing, to sequencing and sampling. And mastering of course!
So we dug through the web to find all the funnest and most useful tools for you.
Get your bookmark bar ready. Here's 10 free browser-based music tools you'll love:
1. Audio Tool
AudioTool is an online production studio that feels like a real studio—and a really dreamy one. You get to choose iconic gear to play with, like TR-909s, TR-808s and TB-303s just to name a few.
Customize your setup as much as you want without touching that paycheck. Plug cables and tweak knobs manually. It's all saved in the cloud. There's also loads of tutorials to watch.
Start building the free gear rig of your dreams with AudioTool here.
2. PatternSketch
PatternSketch is a free online drum machine. The sequencer and drum kits give you the power to create entire tracks. Share your creations with your friends or invite them to collaborate.
PatternSketch even lets you export your track in WAV, OGG or MP3.


Find the perfect beat with PatternSketch here.
3. Typatone
Type anything into Typatone and it will turn every letter into a beautiful sound. Switch the instrument to find what you like best. There's tons of options.
Open several tabs and create a polyphonic melody. Or even transform any text into ambient music by copy-pasting it into Typatone. Try it now:
Hot Tip: Hear what your name sounds like as audio!
Typatone is free to use—but exporting costs $1 USD.
Make music while you write with Typatone here.
4. Pitch Shifter 
This free online Pitch Shifter lets you change the pitch of an audio file without changing the tempo. It's awesome for making your samples more interesting and weird.
All your pitch-shifted samples are saveable in MP3 format.
The next time you need to change the tempo of a sample without affecting the pitch they also offer a handy time stretcher tool<.
Start messing with your samples using Pitch Shifter here.
5. Text To Speech
Text To Speech opens up a whole new world of vocal samples for your tracks. Type in text or lyrics you wrote. Then export the audio file in MP3 for free.
Text To Speech is an amazing way to make slightly robotic sounding vocals—think Daft Punk's Harder Better Faster Stronger.
[als type='video-module' cover=" src='https://www.youtube.com/embed/GDpmVUEjagg?showinfo=0″ width="700″ height="394″ frameborder="0″ allowfullscreen="allowfullscreen">
Just add some effects in your DAW and you've got killer vocal samples that say exactly what you want.
Make better vocal samples with Text To Speech here.
6. Online Sequencer
Online Sequencer is a free sequencer right inside your browser. Choose from 13 instruments and place them on your sequencer to make a melody.
If inspiration strikes, it's a great way to sketch out a song. Online Sequencer lets you export your creation as a MIDI file. Then import that MIDI file into your DAW to develop your song idea.
Start composing with Online Sequencer here.
7. Acid Machine
Some of you already know how much I love acid basslines. I'm sure you will too with Acid Machine.
Use it to make an acid house track right in your browser. Export your creation in WAV format. Acid Machine also has a drum machine to layer under your bassline.
This version is totally free. If you're super into it, there is a new version that goes for 4£ GBP.
Start making rave bangers with Acid Machine here.
8. Oblique Strategies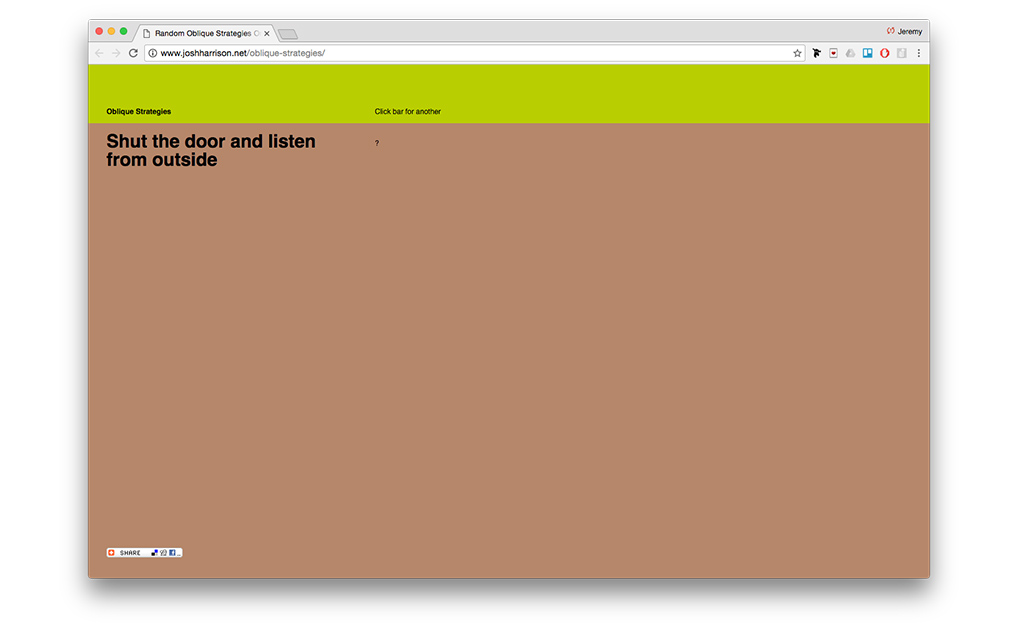 Oblique Strategies is a concept invented by pioneering ambient musician Brian Eno. Originally presented on a pack of cards, these short sentences help you overcome creative blocks.
They are poetic and mysterious. They give you the power to think about a dilemma in a new way.
Digital designer Josh Harrison made them available for free on his website.
Start using Oblique Strategies to kickstart your creativity here.
9. Autochords
Autochords is a super useful tool when you're writing songs. Sometimes you just need a little push to get your song started.
Autochords suggests chord progressions according to the key and mood you select. Choose between piano or guitar. You get a main progression and three alternative ones.
So kickstart your songwriting process with Autochords here.
10. Audio Tests
Audio Check gives you a full toolset for any audio test you can possibly think of. On the usefulness scale this is definitely 10/10.
Are you setting up your home studio speakers? Or need to check if your headphones (or ears!) are working properly? This is your go-to.
Use this website to
Test your room acoustics
Test your speaker/headphone stereo image
Test the phase of your speakers
Test your ears
Test for the best with Audio Check here.
Make Music in Your Browser
You probably already love the internet. You'll love it even more when you discover how many amazing music tools there are out there—for free.
From kickstarting your songwriting process to making a track in your browser, all these tools are waiting…
So start using this list and let us know which you liked best.
Have fun making music today! Just don't let your boss find out what you're doing in that second browser window….